Your Website Should Be Your #1 Salesperson!
We know how it is, you go into work each day with big plans to make those website improvements finally happen! The day goes by with interruptions, new projects, tasks that take longer than expected, and numerous other things that get in the way. Sadly, another day has gone by and you leave the office disappointed but think, "oh well, maybe tomorrow".
We've all been there, day after day goes by because other things take "priority", but it's time to stop the madness! After all, your website should be your #1 salesperson, making sure it is should be your focus. You wouldn't keep a poorly performing employee without investing in improving or replacing them, right?
Not convinced? Take a look at these facts to see why your website should be your #1 salesperson:
It sells 24 hours per day, 7 days per week with no time off and never gets sick! (at least we hope not) 😃
It can sell to numerous people at the same time and reach WAY more than any human salesperson can every day.
It ALWAYS delivers the correct information, the way you want it (because you're in control).
With the proper tools, it will never forget to track activity with prospects and customers.
Many companies understand the impact a highly performing website can have on business and therefore focus their efforts on generating more traffic.
According to the 2017 State of Inbound report presented by HubSpot, 55% of companies have set 'Growing Traffic to Website' as one of their top marketing priorities for 2017, second only to converting leads into customers.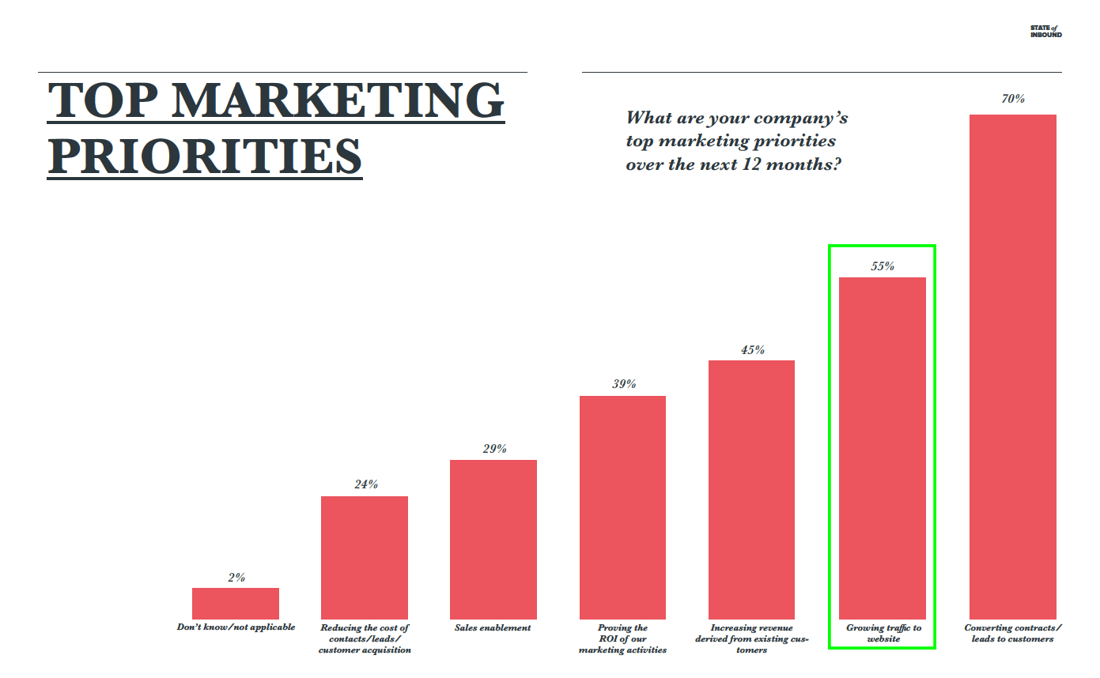 Now you have the ammunition to elevate your website improvements to the top of your priority list. Clear off your desk, hide all those interruptions in a drawer, push that "do not disturb" button, shut your office door, and make it happen!
After you're feeling all accomplished and ready for your next challenge, read through the full State of Inbound report for even more insight into growing your business in today's market.