Getting SMART with your Marketing Goals!
It's time to stop the guessing game.
It's the first Monday of the month and you've just taken your seat around the large conference room table in preparation for the monthly management meeting (internally shooting yourself for not leaving home in time to grab that much needed Starbucks on the way, that pesky snooze button!). You take a peek at the agenda and are excited to see that you are 5th on the list. You think to yourself, "Yes! I'll have time to put some more thought into these goals.".
You always dread this meeting! Your goals always seem like a guessing game without detailed data to support the results. You just know that everyone in the room (except your boss) tunes out as soon as you begin to talk. Sales never grasps the fact that, without you, they wouldn't have those amazing numbers they get to talk about, and you are constantly trying to figure out how you make your reports more intriguing (and believable) to everyone!
Every Marketing professional has been there, but it's time to stop the guessing game and learn how to set SMART Marketing goals. We realize that we are not talking rocket science here, it's nothing new and not overly complicated. However, fully understanding the concept, taking the time to map it out, and having the right tools to support your efforts can truly make or break your marketing plan.
Let's look at the 5 components of a SMART Marketing goals: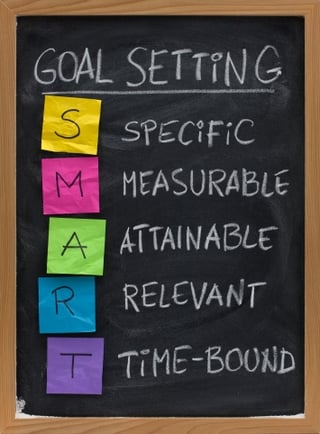 Specific: Your goal needs to be a specific fact, not a range or vague term such as "increase". For example, the specific goals that should be defined for any Inbound Marketing Plan would include a specific number for total site visitors, new leads, and new customers.
Measurable: You have to have the right marketing tools in place to be able to measure the results of your marketing efforts and the success or failure (cringe) at achieving your goals. Being specific also gives you the ability to measure results.
Attainable: Evaluate how realistic your goals are. Do your research, look at the historical data, and make sure you have recorded all benchmark data, from the same reporting tool you will use to evaluate the results. Be aggressive, but not unrealistic.
Relevant: Always make sure that the marketing goals you are setting are in line with the overall business goals of the company. If your boss's business growth strategy for the next quarter is to grow by cross selling to existing customers, than focusing all of your efforts on driving new traffic to your website doesn't make sense.
Timely: Set a due date for achieving your goals. Quarterly goals work well with our previous example of an Inbound Marketing Plan, however it's still important to report on a monthly bases to evaluate how well you are tracking based on the end goal.
Here is an easy template for writing out the final definition for each SMART Goal:
Increase _________ by ________ (starting at this amount _________ and go to this amount ________) by this date _________.
A great method for setting the numbers is to work backwards from your sales teams goals. If your sales team needs to increase sales by $100,000 in the next quarter and your average new customer sale is $10,000, than they need to acquire 10 new customers in the next quarter. Using a conservative conversion estimate of 1%, that would mean you will need to increase your current site traffic by 1,000 new visitors in the next quarter. To complete our example, let's assume your site traffic last quarter was 6,700 unique visitors, than your site visitor SMART goal would be as follows:
Increase unique site visits by 15% (starting at 6,700 and go to 7,705) by June 30th.
If you need additional help setting your goals, be sure to download our SMART Marketing Goals template and calculator (compliments of our friends at HubSpot). The formulas are already in place, just put in your benchmark data and get your goals!